Welcome to Bécours !
Bécours is a typical hamlet of a dozens houses and a vast camp site located in the South of France.
The French non confessional Scout Association Eclaireuses et Eclaireurs de France owns it since 1980, at that time it was mostly composed of brambles and collapsed houses.
Boys and girls scouts from all around the globe rebuilt it during summer camps and volunteer workcamps. Bécours is a perpetual work site to maintain the existant and build new stuff, where various work projects (for example electricity work, pouring concrete slabs, maintaining of green space, plumbing, building wood cabins, create storage areas) are done around the year, especially during the automn and spring hollidays but also in summer.
Now, the hamlet and the camp site are fully functional and managed by a group of volunteers.
Bécours is a perfect place to organize summer scout camps, or to be a volunteer for a few weeks!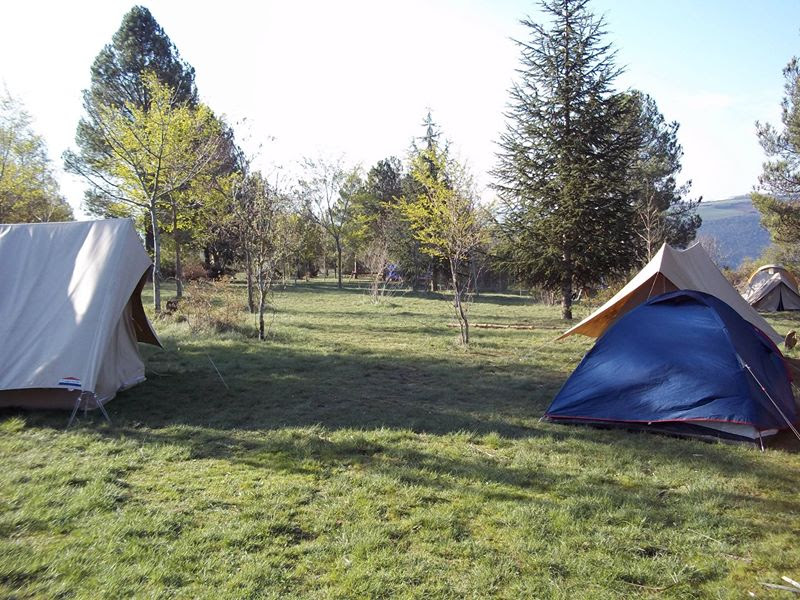 Click on the bullet points, you'll find information whether you are a group or want to volunteer.
You are a group and want to stay in Bécours
You want to stay as a volunteer
Facilities of the Hamlet
Dormitories
Bécours has several buildings for a total of 39 beds in bunk beds
Amade : house with 13 beds and a bathroom with 1 shower, 1 toilet and 2 sinks
Hotel : composed of 3 dormitories with 10 beds (G), 8 beds (ground floor) and 8 beds (first floor), sharing a bathroom with 3 showers, 2 toilets and 3 sinks.
We ask that you bring a pillowcase and a single fitted sheet. If needed, they can be provided (cleaning fee).
Blankets are available in each dormitory and must not be removed under any circumstances.
Restaurant
The Restaurant is composed of a collective kitchen, a storage room, a refectory, fireplace and toilets.
Kitchen : equipped for large groups (~100 people), with two refrigerators, a large work surface, a range style cooker with 4 gas burners, an electric oven and the associated gastronomic dishes, a mixer, serving dishes and pans, a professional dishwasher and two sinks for hand washing.
Storage Room : under the kitchen, equipped with a large cold-chamber and shelves
Refectory : adjoining the kitchen, equipped with cutlery, plates, glasses, bowls, tables to assemble, benches, for about 60 people.
Fireplace : a fireplace (wood is not provided) and a stone stand ideal for evening gatherings in small groups. It opens onto a covered terrace in summer.
Toilets : Three toilets and a sink are available below the fireplace.
Other
The Barathym and the Tavern: two adjoining vaulted activity rooms, with a bar area, a water point, tables and chairs.
La Mairie / The Townhall : a large workroom with many educational resources, books and games, maps, photocopier, tables and chairs.
And for the camp site
The camping area
The camping area covers nearly 10 hectares of wooded land with 12 water points and 3 sanitary blocks (BS).
BS1 : 5 toilets, 5 double sinks, 9 individual showers, and in summer, connection of two collective shower tents
BS2 : 7 toilets, 5 individual showers, 4 double sinks
BS3 : 3 toilets, 1 double sink, 2 sinks
Each group has its own identified space. The sanitary blocks and some collective equipment are shared between the groups.
Cleaning products and toilet paper are provided by Bécours, it is imperative to use only them because the center is equipped with a purification station. The use of bleach is strictly forbidden. The cleaning of the sanitary facilities is done daily by the groups.
Collective spaces
Free of charge: Bécours provides the courtyard of the Hameau and its masonry pizza oven, tables and benches, a stage for shows, the playground (la Plaine) and the Giga structure, a volleyball net, poles and croutes, a storage room and cold rooms. These spaces are shared with the other groups.
For rent : community tents of various sizes with lighting and wooden cabins with green cover for educational activities, stewardship or storage of equipment.
Equipment
Gas bottles: weighed at the time of delivery and upon their return, gas is invoiced at cost price.
Extension cords, power strips, walking lamps, in limited supply
Metal elbows, U-shaped fireplaces, water barrels and buckets, fire shovels. On the field, the fireplaces are clearly marked. Fires may only be lit with the explicit agreement of Bécours representatives.
Compost area, waste garbage cans and selective sorting. In the summer, daily garbage collection is organized by the EIDAA (Equipe Internationale d'Accueil et d'Animation, the international team of volunteers).
Stewardship kits for 50 people (2 burners, utensils, containers) for rent
Faires
Please contact us at becours@eedf.fr describing your project to have the complete faires (as an indication for 2024 : a night in a dormitory is 14€, a night in the campsite 5€, and the contribution to the association is 3€ wether the stay duration – for 1 person). We will do our best to make your stay possible!
Volunteering in Becours
You want to stay in Becours and discover how adults manage the place?
During Summer
You can join the International Welcome and Animation Team (EIDAA for Equipe Internationale D'Accueil et d'Animation in French). This team is composed of volunteers and is coordinated by Cori, our employee for 2023.
The team's job is to share the association project with the different groups, to make their stay as easy as possible and to promote inter-movment exchanges.
The team is also in charge of the daily management of Bécours :
they open the « Mairie », where you can find nformation and many ressources (maps, books, games, printer…),
they offer activities,
they ensure hygiene, safety and the maintenance of the collective facilities,
they provide help and support to the groups depending on their autonomy, make sure that everything is running smoothly.
Living in Bécours within the EIDAA is a commitment, a lot of good will, communication, patience and tolerance, generosity. It is also, and above all, meetings and exchanges, sharing and knowledge, work and rest periods (two days per week, great, isn't it?), all enhanced by a good dose of laughter.
For a few days or several weeks, EIDAA becomes a host family that lives around Cardabelle – a house shared between volunteers, attentive to the well-being of its members, so that each year's return is a pleasure!
And if you're more interested in making bread than other stuff, you can join the Boulange Team
Convinced? Send a message to becours@eedf.fr introducing yourself, saying why you want to come, and more importantly tell us your favorite dish, we'll try to make it for you !
Some things to know :
Language : even if everybody is eager to interact, French is the general language used. English, Spanish, sometimes German and Italian can be spoken, mostly with a strong help of hands and online translation! At least an A2 level in French is recommended.
Resting days : the whole team has one joint resting day per week, that allows them to bound outside Bécours. Usually, we go swimming, visiting something or hiking. The general programm is : go to the river, swim, take a nap, go in town and have a drink, sometimes a meal, and then go back. If you don't want to go, it's ok of course. Another resting day must be taken, and you can do what you want during that day.
Location – Transports : Bécours is in the countryside. A bus can take you to the 2 closest cities (Severac le Chateau and Millau), they're both at ~30 minutes long drive in car from Bécours. It is easy to drive you to the bus, but there are no cars allocated to the volunteers during their individual resting days.
Food : usually, meals are prepared by 2 people everyday and menus are made collectively. We eat mostly vegetarian (meat/fish once in 4 meals). If you want more than what is proposed, you can buy it by your own (same with all kind of food). Alcohol is not provided by Bécours.
Sleeping : Cardabelle can host 8 people in bunk beds – but it can be hot during summer, and you can plant your tent wherever you want. Sleep is essential, we want to preserve it!
Well Being : we want you to have a nice stay. We have a meeting every day to prepare the next day but also to regulate the collective life. Violence of all kinds is not tolerated.
Cigarettes : Bécours is flammable and full of children : you must only smoke in the smoking areas.
Drugs : except for sugar, cigarettes and alcohol, the French law prohibit all drugs use.
During spring
From March-April to late June, Bécours is open for French and international volunteers having a personal project to stay, with two possibilities :
the volunteer have a personal project with a clear interest for Bécours : we'll try our best to host you in a single room, especially if the stay is long. The project must be related to the following topics : environment, pedagogy, inclusion, discriminations, construction / renovation. It must provide at least one activity that can be made with a group of children. It must not cost money to Bécours (if expenses are incurred, they must be covered by grants, not by Bécours).
the volunteer have a personal project, but without a direct link to Bécours (it could be done anywhere) : in this case, the venue depends on the number of people yet living there and on the duration of the stay. A contribution of 6€ per night is asked.
In both cases, all volunteers are in charge of their food and they must respect the requirements previously mentionned for the summer regarding Language, Location – Transports, Well Being, Cigarettes and Drugs. Transport to Bécours are not funded. We strongly recommend a good autonomy, adaptability, and to enjoy living in the countryside.
The conditions are restrictive for the moment as we do not have the forces to welcome and support multiple volunteers in their projects, or to propose International Civic Service for 2023. Maybe next year !
We hope to host 3 to 4 French Civic Services this spring to create activities related to the environment or develop communication supports. So if you appear to be in the neighborhood and wish to visit us, you're welcome! But please send us a mail first at becours@eedf.fr 🙂